In recent years, consumers have focused more on wireless networks. The industry has also been busy allowing Wi-Fi 6 (802.11ax) to work in the 6 GHz band along with Wi-Fi 6E. In parallel, the 802.11 task force had begun work on 802.11be with an emphasis on Extremely High Throughput (EHT). Wi-Fi 7 is fast becoming the nickname for 802.11be aimed at consumers.
802.11be aims to achieve high throughput primarily through a combination of three aspects:
Support for up to 16 spatial streams

Support for 320 MHz wide channels (with operation in the 2.4 GHz, 5 GHz and 6 GHz bands)

Support for 4096-QAM (4K-QAM) resulting in better use of available spectrum (a faster modulation/coding scheme).
Theoretically, these aspects allow up to about 46 Gbps of wireless throughput. 802.11be also aims to enable the use of Wi-Fi for real-time applications by including features for low latency communications such as multi-link operation (MLO). This allows a client and an access point to communicate simultaneously on several channels which may even belong to different bands. Interference and coexistence with non-Wi-Fi users of the same spectrum is managed using automatic frequency coordination (AFC).
A number of additional features targeting these two focus areas are under consideration for the final standard. However, several silicon vendors have already begun to introduce silicon-aware variants of aspects included in early draft 802.11be specifications.
Mediatek was one of the first vendors to demonstrate the operation of 802.11be-compliant silicon earlier this year. Although Mediatek has indicated that the products will be released under the Filogic range, concrete technical details and part numbers have not been announced. At MWC 2022, Qualcomm provided details on its 802.11be client silicon targeting mobile devices. The FastConnect 7800 is expected to be available in the second half of 2022 and integrates support for Bluetooth 5.3 with key features of Wi-Fi 7.
Broadcom today announced a comprehensive product portfolio targeting various Wi-Fi 7 markets.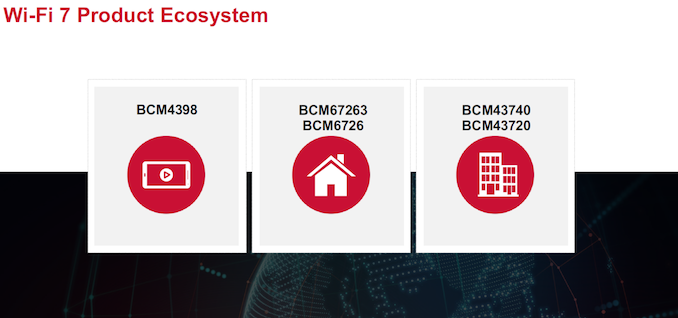 The table below summarizes the main characteristics of products targeting access points. All of these support 4K-QAM and multi-link operation.
Broadcom 802.11be (Wi-Fi) Access Point Radio Specifications




BCM67263

BCM6726

BCMN43740

BCMN43720




Target market

Home Wi-Fi hotspots

Enterprise Wi-Fi hotspots




Operational Band

6GHz

2.4 GHz (or) 5 GHz (or) 6 GHz




Number of streams

4

2




Max. Channel width

320MHz

160MHz

320MHz

160MHz




PHY rate

11.5 Gbps

5.75 Gbps

11.5 Gbps

2.88 Gbps









AP products support AFC to ensure that the 6 GHz range is not affected (APs are mandated to receive regular authorization from a central authority to avoid interference with 6 GHz spectrum users ). Broadcom has applied to be an AFC operator and will offer AFC service with its chips. This will use Open AFC code. Broadcom also believes that a vibrant Wi-Fi 7 ecosystem requires an AFC service that device makers can use independent of chip vendor. Organizations such as the Wi-Fi Alliance and the Wireless Broadband Alliance have applied to be AFC operators, with Open AFC already gaining ground in this area.
The BCM4916 network processor is the link between these elements in Broadcom's Wi-Fi 7 router reference design. This ARM v8-compliant quad-core SoC features a Dual Problem Runner Packet Processor (DI-XRDP), an integrated NBASE-T Ethernet PHY (up to 10G) for WAN or LAN, four integrated 1GbE PHYs, three USXGMII interfaces, multiple Des USB ports and a 32-bit DDR3/DDR4 DRAM interface.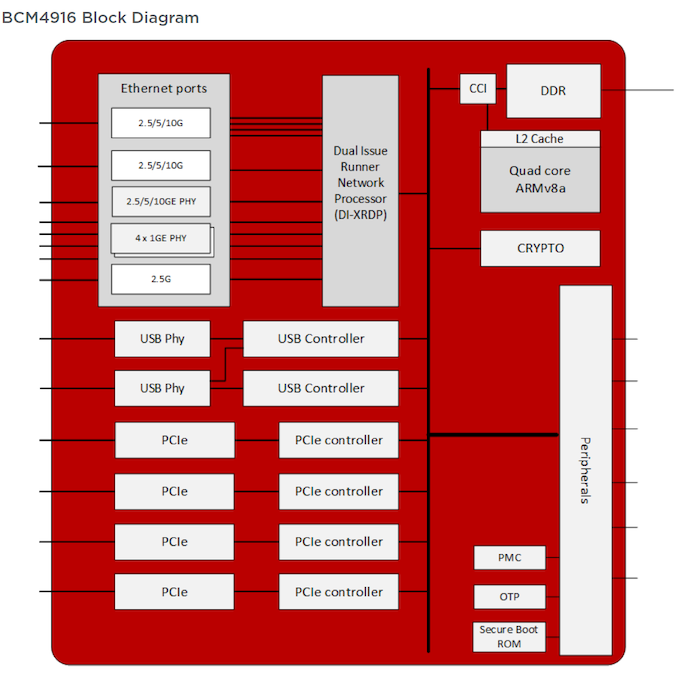 The quad-core processor is a custom Broadcom design with 64 KB of L1 cache and 1 MB of L2 cache, providing up to 24,000 DMIPS horsepower. Without knowledge of exact clock speeds, it is difficult to compare with ARM's standard Cortex cores. Based on the DMIPS number, this appears to fall between a Cortex-A53 and an A57, but does not include the ARM v8.2 features of the A55.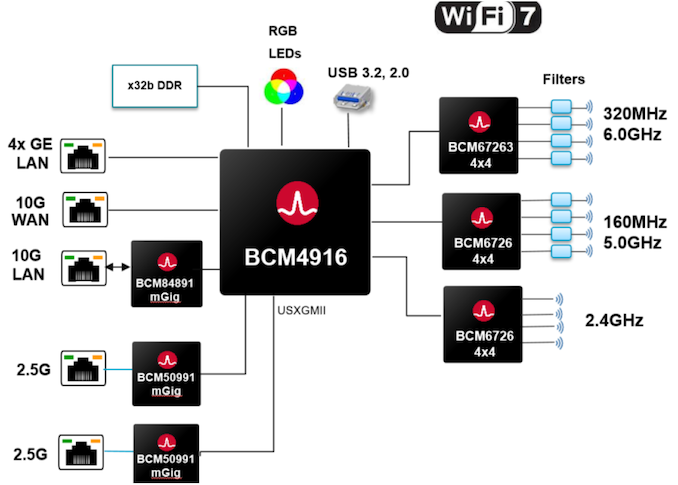 Broadcom customers can play with the radio configuration in the design above to create products at different price points. Tri-band support becomes mandatory in Wi-Fi 7. The extremely high throughput enabled by this means that 10G support on the WAN/LAN side and NBASE-T support on the LAN side will become the de facto standard for routers and access points in the years to come.
Broadcom is also introducing the BCM4398 – an integrated Wi-Fi 7 and Bluetooth 5 combo chip targeting smartphones and other mobile applications. It supports two streams of Wi-Fi 7, a channel width of up to 320 MHz, and a PHY rate of 6.05 Gbps. On the client side, one of the major user-visible updates is low latency operation. Broadcom claims the BCM4398 can achieve sub-millisecond latencies for lightly congested environments in the 6 GHz band. The client's multi-link operation feature can maintain uplink and downlink latencies between 5 and 10 ms in situations where the 5 and 6 GHz bands are heavily congested. This provides determinism for AR/VR knowing that worst-case latency will be reduced to milliseconds, even under heavy congestion.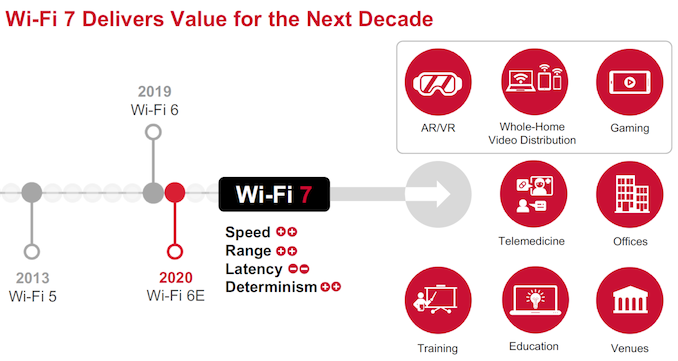 Broadcom is the first vendor to announce a full portfolio of Wi-Fi 7 products, with key customer sampling already underway. The new products are expected to give end consumers a taste of the values ​​brought by Wi-Fi 7 for different applications within a few quarters.