RICHMOND, Va. (CBS19 NEWS) — Thousands of new voter registrations have been delayed since June.
The Virginia Public Access Project reports that intermittent computer network delays at the Virginia Department of Elections resulted in a delay in processing at least 40,000 new voter registrations that were submitted through the Virginia Department of Motor Vehicles. .
According to a press release, these registrations were filed between May and September.
According to the VPAP, state election officials report that no documents were lost and that anyone affected by the delay who is qualified to vote will be given the opportunity to vote in the next general election.
The release said the state Department of Elections provided local registrars with a backlog of 107,000 DMV transactions this week, including address changes, new registrations and more.
The exact number of registrations that were impacted will not be determined until local registrars are able to complete work to update their voter records.
The VPAP reports that it based its estimate of delayed records on the difference between the 2022 trend lines before and after connectivity issues began.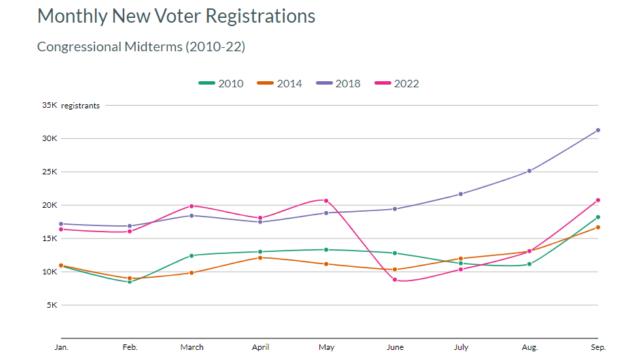 Virginia Public Access Project